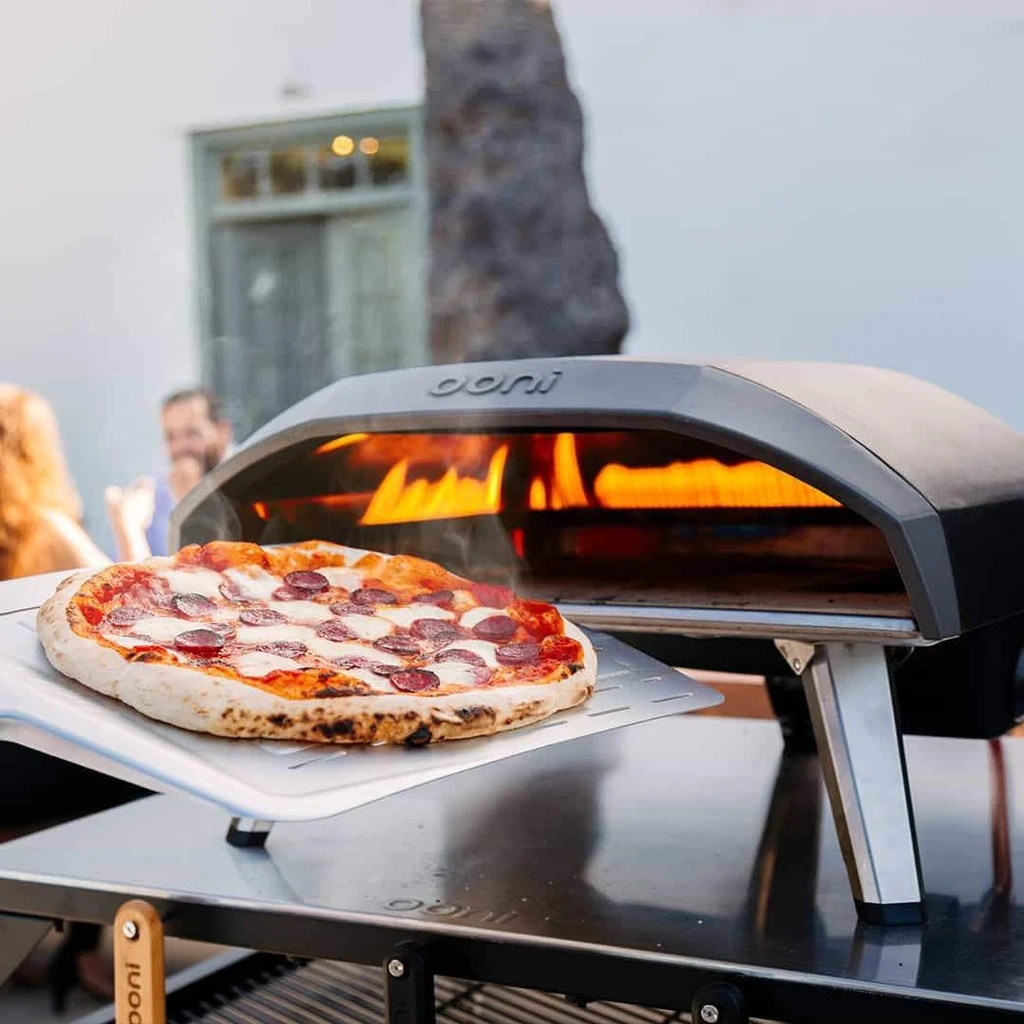 Ooni
Ooni ist ein Unternehmen für Outdoor- Pizzaöfen mit Sitz in Edinburgh, Schottland .  Ooni brachte 2012 den weltweit ersten tragbaren, mit Holzpellets befeuerten Pizzaofen auf den Markt. Ooni ist auf Hochtemperatur-Pizzaöfen für den Außenbereich für Privatkunden spezialisiert.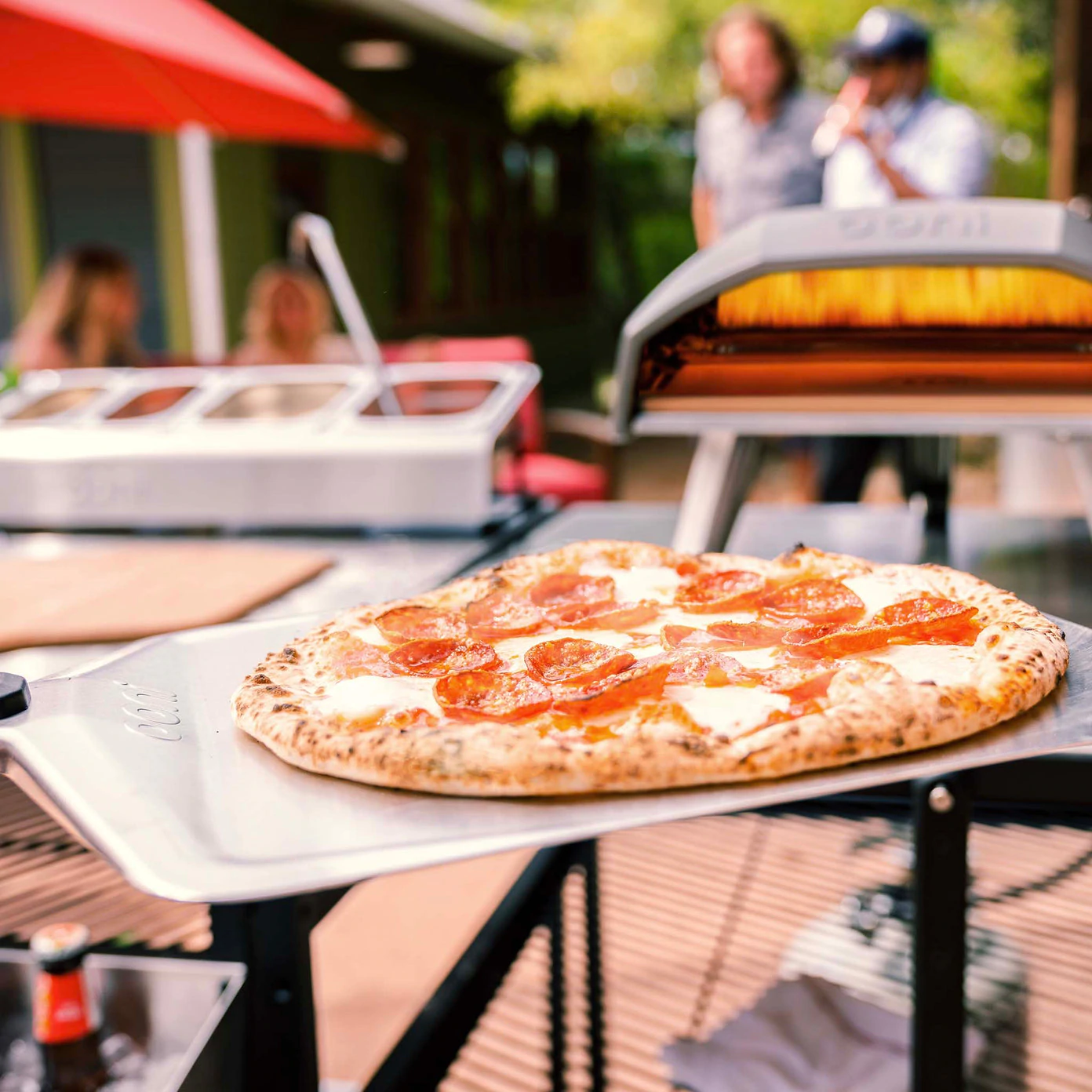 One idea, many possibilities
A lot has happened since the first prototype and so the Ooni pizza oven is now available in different versions. Whether small or large, whether powered by wood, charcoal, hardwood pellets or gas - bake your pizza the way you want it. It will certainly be perfect, because every oven reaches a temperature of 500 °C in a short time. Let your creativity run wild and create pizza that tastes like a professional. With the practical accessories from Ooni for preparing, serving and cleaning, you'll be ready for all occasions.
Pizza oven in detail
For the perfect pizza at home
Whether vegetarian or with salami, with lots of cheese, onion or pineapple - pizza can be prepared in an incredible number of ways to suit every taste. However, one thing is always needed to make the perfect pizza: lots of heat. With an outdoor pizza oven, your pizza will taste like it did in a restaurant.
Anyone who has ever made pizza at home knows the problem. The oven just doesn't get hot enough and therefore the result somehow doesn't turn out the same as at your favorite Italian restaurant. Even the most sophisticated recipes won't help, because pizza needs to be really hot. Only at a temperature of at least 350 °C to 400 °C are both toppings and dough optimally baked. A high-quality outdoor pizza oven reaches the necessary heat in just 15 minutes and delivers masterful results - without any delivery service.


Outdoor pizza oven for your garden
Sure, if your garden and budget are big enough, you can of course build your own stone oven. But let's be real: this is definitely not everyone's cup of tea. Fortunately, there are now great alternatives. With a mobile outdoor pizza oven for your home, you can experience the perfect pizza pleasure from now on. Depending on the model, the pizza oven is fired with gas, wood, coal or pellets, reaching temperatures of up to 500 °C. Some manufacturers - such as Ooni - also give you a free choice and have models in their range that can be heated with several types of fuel. This gives you maximum flexibility when preparing your pizza.


Preheating: the be-all and end-all of pizza baking
We've said it before, but we have to repeat it again at this point. Pizza needs high temperatures - and that from the very first second. So it doesn't help to heat up your outdoor pizza oven when the pizza is already inside. That will only bring disappointing results. The dough is not evenly baked, maybe even still raw in some places, the topping is not properly cooked and the cheese is burnt.
However, if you put your pizza in a thoroughly preheated pizza oven, things look different. Depending on the size of the pizza and the temperature, it only takes 60 to 120 seconds for your food to be ready. As a rule of thumb, the larger the pizza and the oven, the higher the temperature needs to be.
Accessories and cleaning
There are, of course, plenty of accessories for your mobile outdoor pizza oven. In addition to the pizza cutter, which must be present in a well-stocked household anyway, there are other helpful things available. You definitely need a pizza pusher to avoid burning your fingers, but a pizza turner can also be a useful tool. This will keep your pizza in contact with the hot stone while you turn it, and it will finish even faster.
By the way, cleaning your outdoor pizza oven is very easy, because it usually cleans itself due to the high temperatures. However, if you have a little mishap and cheese or other ingredients landed on the pizza stone, you have to do it yourself. Run the pizza oven at full heat for 30 minutes. This will burn off any food residue. You can then clean the stone and oven with a special brush. When the pizza oven has cooled down, you can remove the stone and wipe out the oven with a dry cloth. By the way, it is recommended to turn the pizza stone over after each use.
NEWS